Legal design for in house: the GDPR challenge no one is talking about
This live webinar will feature Richard Mabey, CEO at Juro in conversation with lawyer and legal designer Marie Potel-Saville.
What we'll be talking about:
What actually is legal design

How can legal design help in house teams in practice

What does GDPR really require from your organisation's privacy policy

A case study for building a clear, transparent, intelligible and easily accessible privacy policy - it is possible we promise!

Best practice, tools, and resources for running your own legal design sprint

Any questions
May 18, 2018 11:00 AM in London
Speakers
Founder & CEO of Dot's Paris Office
Marie combines her 15+ years in-house and private practice experience with her passion for Legal Design, to provide clients with user-centric, engaging and real-life solutions. Marie was Vice President Legal EMEA at Estée Lauder Companies Europe and previously served as EMEA Legal Manager at Chanel.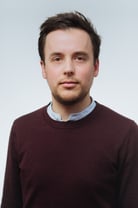 Richard trained as a corporate lawyer at Freshfields, before going on to co-found Juro, which is backed by the founders of TransferWise, Gumtree and Indeed. Richard speaks regularly on legal design topics as well as putting this into practice at Juro, where he works with in house legal teams on redesigning process.